Basil Lemon Shrimp
Another tasty dish from Go Figure chef/co-owner David MacDonald
This recipe is perfect for a summertime BBQ! It's quick and easy to prep and only takes a few minutes to grill.
1 lb. peeled, thawed raw shrimp             ½ tsp. salt
¼ cup freshly squeezed lemon juice       ¼ tsp. pepper
¼ cup olive oil                                          1 medium garlic clove, chopped
1 tsp. agave                                                ½ small bunch fresh basil
Blend all ingredients in blender, except shrimp (that would be interesting!) Mix shrimp with blended sauce and marinate for about ½ hour. Cook on medium heat until done, about 5 minutes. Enjoy!
Please Note: Shrimp is only 28 calories/ounce, so to get 140 protein calories you would need to eat 5 ounces of shrimp. It's important to get enough of it, along with your healthy fats and veggies, or you will go away feeling hungry after eating it.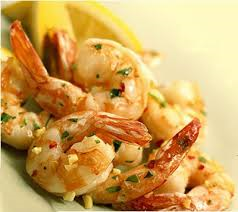 Copyright David and Cheryl MacDonald, 2013
For more healthy recipes or tips on weight loss, please Contact Us!