Refreshing Mint Veggie Salad
Another creation from Go Figure Chef David, this salad is a light and tasty way to enjoy the flavors of summer!
1 cup olive medley: black, kalamata, or try some from grocery store olive bars
½ cup artichoke hearts                                         Juice from ½ lemon
¼ cup apple, chopped small                                ½ tomato, chopped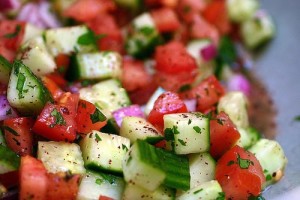 2 thin onion slices, finely chopped                       ¼ cup Grapeseed oil
½ cup cucumber, chopped                                   1 tsp. agave
¼ cup goat cheese crumbles (optional)                 Dash of pepper (optional)
A few sprigs of fresh mint leaves, cut fine
Mix olives, veggies, and apple together in bowl. Lightly stir in goat cheese and mint leaves. Pour lemon juice on top and dribble agave and oil over top. Add pepper, if desired; stir lightly and serve with protein on the side or in the salad for a complete and delicious meal.